Tonight we'll be carving pumpkins, eating bowls of pepper, squash and black bean chilli (made with my not so secret ingredient….dark chocolate), sipping on some spiced cider and chowing down on some 'bloody balls'.
What are 'bloody balls', I hear you cry! They're a chestnut concoction similar to that of a raw ball except not raw, if you get my drift, covered in an orangey red white chocolate coating. I was planning on posting them today and present them to you as 'bat balls'. I had it all planned out. I was going to put them on sticks (like cake balls), cover them in dark chocolate and give them wings. Great!
Then I had the bright idea to make them 'pumpkin balls' – y'know, the carved kind with little triangular eyes and all that. Again, I had it all planned out. I bought some vegan white chocolate, natural food colouring (red and yellow) and my special touch for the eyes, mouth and nose were going to be cacao nibs – they're the perfect size and shape. Clever, no?
What wasn't so terribly clever was not realising vegan white chocolate doesn't melt so well (did you know this? i didn't) and even when you encourage it with a little vegan butter and soy milk, it becomes a clear liquid. Not so helpful. I soldiered on, adding a little yellow food colouring, whisking, adding a touch of red and after a while it actually started to look pretty good. I was heartened. I finally managed to get a sufficiently orange shade but they didn't coat the balls to my satisfaction – I wanted them completely opaque but the white chocolate just didn't cover them well enough, it was still too translucent for my liking. Hey ho!
Sooooo, I resigned myself to having 'bloody balls' for Halloween, which is still apt, so I'm happy. Thankfully they tasted awesome (a bit like a caramel my Husband said) but I wasn't happy enough with their appearance to put them on the blog. However!!! I will, probably this week, post the chestnut ball recipe complete with photos, I promise.
Of course, I couldn't let you go empty handed this all hallows eve, so please accept this vegan pumpkin muffin recipe (an oldie but a goody) and this delicious vegan pumpkin butter. Enjoy and………..
HAPPY HALLOWEEEEEEEEEEN!!!!
So, it occurred to me recently that this is the nicest flat we've ever lived in. Not that it's the most modern, nor the one with the most mod cons (it disappointingly lacks a dishwasher) but in terms of size, space and general feel, it's the one that suits us most as a couple.
A few people have asked about my photos – what camera do I use, how much do I tweak them etc –  and the answer to many of these queries lies not in the fact I own a fancy schmancy camera and run all my photos through lightroom, but in the magnificent light that bathes our top floor apartment with its original Georgian windows and perfect angle to the sea. I love it.
In that sense, I owe the good photos that I occasionally manage to take to this little Penzance flat we call home.
In a few months time we'll be moving on, which means leaving our Cornish haven and everything we have established here. It's sad but it's also exciting and rather than get all melancholic about it, I've decided to record the bits that make me happy. It's not difficult for my possessions to look great when they are displayed in a space that was originally intended for a gallery.
White walls, white floorboards, some might call this a nightmare. People marvel at how I manage to keep it clean, but in truth its really not been difficult at all, and as I take extreme pride in our beautiful abode, it brings me abundant joy to make it look pretty and nice.
I only hope the flat we find in London can in some small way match the charm of this one. Trying to find a place that reflects our personalities and is suitable for our furniture, most of which is from the 50's, 60's and 70's, including our spindleback sofa, smoked glass coffee table and uber 70's recliner. I can't imagine we will top the magnificence of this bright white space that displays our possessions so perfectly but I'll certainly try my damndest.
Luckily I have a bit of a talent for flat hunting and so far have come up trumps every time – fingers crossed I can get it right again. Pretty much every flat we've lived in has required a bit of arm twisting my end and this flat was no different. When my Husband discovered it was right next door to his childhood home (we can see his old bedroom window from our livingroom) he initially refused to even view it. But I knew it was special. As soon as he stepped foot in it he too was convinced it ours.
Yet, here we are, just over a year later, planning our next adventure in London. Life for us is ever changing and ever unpredictable and for now that's just the way we like it. I have a feeling though that this little home will remain in our hearts for a very long time.
For me, it was the first time I was really able to put my own stamp on a place. It lent itself so brilliantly to my taste and style, which is why I wanted to capture it on camera, so that when I'm miserable in London I can reminisce about our dreamy Cornish life.
Of course, I don't really think I'll be miserable in London, I'm just merely being dramatic. However, I can't say I won't weep for my walk in closet or mope about when I'm longing for a long soak in a non existent bathtub – realistically our London flat will most probably only have a shower.
 I heart bird prints
Despite all this and many more misgivings, I am optimistic about our imminent London life and there are so many positives (like, say, a career!) that I'm sure the moments of doubt and regret will be fleeting.
Now that you've had a virtual peek inside my home, I hope you'll understand me a bit better. I find that people's possessions, the things they choose to surround themselves with, speak volumes about the kind of person they are…..and I know very few people who don't love a good nosey;)
Thankfully the light was particularly fantastic when I took these shots and accurately reflect the dreamlike quality of the flat. It's a super calming place to live and I can honestly say I've never slept better than in this apartment – it is so unbelievably tranquil and the bed is built into the eaves, which makes it feel extra cosy and safe.
There's not much more to say then other than…..
Goodbye my lovely Penzance home. Goodbye my much coveted walk in closet. Farewell my wonderful bathtub (and shower with excellent pressure, I appreciate it). So long, small but perfectly formed, kitchen and superb smeg gas stove (the oven can go screw itself). Adieu the most comfortable bed I've ever had the pleasure to sleep in, I will sorely miss feeling like I'm in a cosy cocoon. Oh darling little flat, right smack dab in the middle of town (and almost on the roof), how I will miss thee. I promise to forever remember you fondly. Be good to the next tenants, but be sure to love them just a little less than us  – I'm the jealous sort. Love, Me x
As promised, here is the recipe for the (kinda curried – it has garam masala in it!) soup I made yesterday. It makes two generous portions, which meant there was plenty for lunch today – lucky me!
curried cauliflower and carrot soup
Ingredients
1/2 head cauliflower
2 carrots
1 onion
1 heaped tsp coconut oil
1 tsp cumin
1/2 tsp garlic powder
1/4 tsp coriander
pinch paprika
1 heaped tsp vegan vegetable bouillon
1 tbsp garam masala
salt and pepper
boiled water
method
Heat the coconut oil in a saucepan. Finely chop the onion and add to pan, season with salt, stir and lightly fry on a low heat until the onion begins to soften.
Peel and chop the carrot into small pieces and add to pan. Place lid on and allow the carrot to soften for a few minutes before adding the garlic powder, cumin, coriander and paprika. Ensure all the vegetables are coated in the spices, clamp on lid and let the flavours infuse for several minutes more.
Break apart or roughly chop the cauliflower into medium sized pieces and add to pan. Sprinkle over the vegetable bouillon powder and cover with freshly boiled water. You want the water to cover the vegetables with about a centimetre to spare – you can always thin it out later when the soup is blended.
Bring to a gentle simmer and cook until the vegetables are just soft but not mush. Transfer to a blender and blitz until completely smooth. Return the soup to the pan and warm on a low heat.
At this stage you can taste for seasoning and add water to your taste. I like my soup quite thick so I only added about a further 1/2 cup of water.
Serve.
Woah! I've never managed to do that before – give a recipe without a load of waffle beforehand.
Have I just gone and ruined it with this little addition?
Nevermind.
Old habits die hard!
ey!
It's the pumpkin guy:)
Thought it was about time I wheeled out my Halloween decorations and this little guy is my favourite. I bought him when we were in beautiful Chicago and he takes pride of place in my kitchen.
This is my first WIAW in a while and I really missed it, so it's great to be joining in the fun again – yay!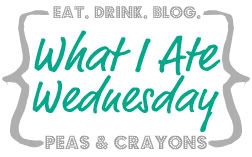 Without further ado, here are my Wednesday eats baby……
Breakfast
Polenta made with oat milk and sweetened with maple syrup topped with Jordan's Country Crisp Chunky Nuts and sliced kiwi.
Hot water and lemon
Lunch
Homemade mildly curried cauliflower and carrot soup served with a slice of toasted rye bread spread with hummus and vegan tapenade.
Snack
Cup of black tea with soya milk and two squares of dark chocolate with nuts.
Dinner
Noodle stir fry tossed in a homemade sweet and spicy peanut sauce served with maple glazed tempeh.
That was a pretty good days eating. Dinner was mega tasty and I really enjoyed my mid day indulgence – hmmmm, chocolate:)
Hope everyone else had (or is still having, depending on where you are in the world) a wonderful What I Ate Wednesday!!
I bought a diary.
Filled it with tasks and reminders.
Now I'm methodically ticking off each task (tick!) and you know what? It feels good. No! It feels great.
It's been a year since I've had a diary and in that time I'd completely forgotten what a useful little tool it can be. I used to be the kind of person who'd note down everything – 'to do', 'shopping', 'menus', 'recipes'. I'm a lists girl through and through. Somehow though I lost my way and for some reason unbenownst to me, tried to keep everything in my head. Maybe this works for some people but I've discovered the hard way, it does not work for me.
As well as tidying up my life I'm also cleaning up my diet. I've replaced my usual black tea with soya milk in the morning with hot water and lemon and to my surprise Hubbie has taken to this change rather well. In fact, given the choice this morning, he went for the lemon!
In addition to this, I've been craving greens like there's no tomorrow. Honestly, a bowl of sauteed kale might just be my favourite thing to eat on this planet. With something so perfect in its simplicity, I tend not to mess about with it too much. Here, the grated carrot and tahini sauce are just enough to compliment the kale without overpowering it.
Tahini sauce is bloody gorgeous, in my humble opinion, and I can't believe it's been this long since I last made some – it must be months since I last whipped up a batch! I aim to rectify this ghastly oversight by forthwith declaring it a once a week ritual. That shouldn't be a problem seeing as it goes with just about anything. Except maybe 'ice-cream'. Although…..
Ingredients
2-3 cups chopped kale
2 carrots
1 tbsp coconut oil
2 tbsp umeboshi plum vinegar
1 tbsp soy sauce/shoyu or tamari
1 tbsp sesame oil
1 tbsp sesame seeds
¼ cup 'nooch' (nutritional yeast)
Tahini Sauce
1 tbsp tahini
1 tsp pink himalayan salt (or rock salt)
Juice ½ lemon
1 tsp umeboshi plum vinegar
2 tbsp filtered water
Method
Heat the coconut oil in a frying pan.
Grate the carrot and add to pan. Stir fry on a medium heat for several minutes. Add the kale and allow to wilt a little before adding the plum vinegar and soy sauce. Stir to incorporate the carrot and kale.
Whilst the kale is wilting further make the tahini sauce. Place the tahini in a bowl along with the salt and lemon juice and mix or whisk until it thoroughly combined. It may seize up, that's fine, it will become creamy again after adding the water. Next add the plum vinegar and water and stir until creamy and smooth. Set aside.
When the kale has sufficiently wilted, drizzle over the sesame oil and stir through. Sprinkle over the nooch and sesame seeds and stir once more.
Serve the stir fry over freshly boiled brown rice (add a star anise to the pot for beautifully aromatic rice) and top with the tahini sauce. I like to drizzle over a small of sauce initially and add more as I'm eating.
Bon appetit!
This walnut, squash and apple bread is my latest contribution to wonderful online publication One Green Planet. In case you weren't already aware I am all about the bread. Sweet bread that is. We had some Chicagoan friends staying with us for the weekend a while back and I wanted something wholesome with a nod to naughtiness – the naughtiness here being the sugar!
I've come to the conclusion that I am indeed addicted to the white stuff. Even though the sugar I consume is mainly organic, unrefined, I cannot kid myself any longer and must concede to calling a spade a spade – or in this case calling sugar, well, um, sugar.
Like with my soy consumption, which I've desperately tried to curtail over the past six months, sugar remains a bigger part of my diet than I'd like. I've resigned myself to the fact that whilst I will continue to drink soya milk and use sugar in my baking I can try to avoid excess intake by limiting my processed food. So far it's not been working out too badly although I couldn't resist a jar of sweet and sour sauce from Marks and Spencer, which looked far to good to pass up. I haven't used it yet but I plan to serve it with crispy fried tofu and whiter than white rice – if I'm going to be bad I might as well go the whole hog, so to speak (bad turn of phrase?).
I don't mind then that this walnut and squash bread has a cup of sugar in it because with my logic that sugar was subsequently divided by five (people), which ain't all that bad in the grand scheme of things. Besides, the bread tasted incredible and surely that's what food is all about – taste – and if sugar does one thing, it makes food taste gooooood. Am I right or am I right?
In other news I am slowly but surely getting my recently all over the place life back on track. I've been searching for a diary/personal organiser for weeks now and me being me, it came with a list of requirements – not  leather bound (you'd be surprised how many diaries are!), small enough to fit into my bag(s) yet with sufficient space to note several items in one day/week, FSC certified paper and preferably in the style of a filofax without actually being a filofax. After failing miserably to find any organiser that fitted all these requirements I was forced to admit defeat and purchase, wait for it, a……filofax! Ugh.
Thankfully it is cotton covered but I'm pretty sure the paper is from the Brazillian rainforest or summat along those lines but the fact I could not find one decent vegan diary was slightly alarming and depressing. Another thing that depressed me this week was the discovery that propolis is an animal derived ingredient that I have been using, blissfully unaware of its origins. Tom's of Maine make my favourite toothpaste and when it clearly says on the back of each tube 'contain's no animal ingredients' I tend to believe it. Call me gullible, a sucker or indeed stupid but I take these things at face value otherwise I'd eat/use/wear nothing for fear that it might conflict with my vegan credentials. Hah! What a fool!
Indeed, I even went so far as to recommend this very toothpaste on my latest Youtube vlog until I was kindly informed by LovingVegan that I had made a huge error in recommending this as a vegan toothpaste when it simply isn't. Lesson learned. Google everything.
If you want to read Tom's justification for using propolis you can find it here. Personally, I felt a little duped and was disappointed in Tom's (yes, I know they're owned by Colgate but still). It is more than deceptive to boldly claim a product contains 'no animal ingredients' when it quite plainly does, no matter what your twisted reasoning behind it is. Now, of course, I'm torn because, like I said in my vlog, I've tried the Weleda plant gel and pretty much hated it (sorry Weleda) and well, even though I'm loathed to say it, I really love this toothpaste. Obviously I won't be purchasing this particular variety again but I'm naffed off with Tom's now and would rather support another company that is more up front and honest about the ingredients contained in their products. I think an email might be in order….
ATTENTION – THIS TOOTHPASTE IS NOT VEGAN, I REPEAT, NOT VEGAN!
Now that I've off loaded all of my irks, complaints and current stresses I shall bid you adieu and hop foot it into my kitchen where I shall be preparing a grossly easy meal of vegan sausage and mash. Next week will be a better week – so I keep telling myself. Now that I've got my organiser I will be completely on top of things (surely?) and who knows, maybe my posts will be more food, less ranting. Stranger things have happened.
Just to further prove what a complete and utter shambles I've been lately, I only realised (after being prompted by my lovely little 'Liebster' award) that we are mid way through VeganMoFo (Month of Food).
I mean really? What the hell is going on with me? I'm actually starting to worry about myself.
After completely missing out on Vegan MoFo last year I was determined to fully take part this time around. So, even though I had the wherewithal to sign up I completely failed to post the banner on any of my October posts – I'm sure there's more to it than that as well, but let's not even go there.
Anyway, much to my surprise, my meagre posting efforts have been kindly recognised by The Vegan Kook – thanks Vegan Kook, muchly appreciated girly!
Liebster Award:
"Liebster" is German and means 'dearest' or 'beloved' but it can also mean 'favorite'. The idea behind this award is to bring attention to bloggers who have less than 200 followers and show your support during Vegan Mofo!
The rules of winning this award are as follows:
1. Show your thanks to those who gave you the award by linking back to them.
2. Reveal 5 of your top picks and let them know by leaving a comment on their blog.
3. Post the award on your blog.
4. Enjoy the love and support of some wonderful people on the big wide web!
Here then are my choices…..
1. Zombie Cats Eating Plants
2. WholeFoodVegan
3. Grim Confetti
4. Awesome Vegan Rad
5. Fresh Air and Fashion
To add to my unexpected week of loveliness, the uh-mazing Hello
Giggles website, which I am an avid follower of, has chosen one my recipes to be featured on their site – yippee! Totally stoked.
I cannot believe my humble soup can be seen alongside some of my all time favourite bloggers such as Mr.Kate and Grasie Mercedes. I'm not embarrassed to say I did a little dance when I saw it pop up on my Facebook news feed. It has so far been shared no less than 77 times! Say wha? And a couple of lovelies left very nice comments. I heart comments, keep 'em coming x
Go check it out and don't forget to share, comment and spread the vegan love!!!
I feel like I'm constantly making excuses lately.
Having previously been a school teacher (an uber strict one I might add) I find excuse making utterly deplorable – 'the dog did not eat your homework, you are simply a lazy little sod'.
Therefore, I'm going to forthwith desist from blaming anything and anyone other than myself for my a. infrequent blog posts b. lazy photography c. late assignments (yep, still completing my styling course) and d. general shambolic behaviour.
My Husband has unfortunately been the one to bear the brunt of my current ridiculousness and duly point out that my usual organised self appears to have gone AWOL. In her place he has found himself living with a slightly deranged version who is seemingly struggling to keep on top of things recently, culminating in her forgetting her loving Husband's birthday! Why am I talking in the third person? Who the heck knows.
So, yes, I forgot my Husbands birthday and only 'remembered' when I was kindly reminded by Facebook (it has its uses!). Luckily, I have the greatest Hubbie ever and he took my oversight rather well – which actually made me feel worse, ugh – so I was determined to make it up to him in the evening when he got home from work. I could but try.
Surprisingly, I'd never actually made a birthday cake before so wasn't overly confident – truthfully I haven't made many cakes in general but that wasn't going to deter me from presenting my ever patient partner with a deliciously moist baked beauty that would erase (or at least gloss over) my aforementioned faux pas.
I could not have been more impressed with this cake and I'm now kicking myself for not partaking in more homemade birthday cake action in the past – all those wasted years spent eating shop bought, below par, slightly dry and more often than not exceedingly dull cakes that serve a purpose and nothing more. What an idiot I've been!
I just about managed to salvage Hubbie's Birthday with the aid of this cake, a tray of enchiladas, a boat load of guacamole, pink sparkling wine with a spritz of lime (try it!) and a plethora of 'forgive me for being a terrible Wife' presents. I think it worked. At the very least it smoothed an acutely awkward situation, with my dearest one even exclaiming it was the 'best cake he'd ever tasted' – his exact words. Compliment indeed.
There may be a few more shambolic weeks ahead of me but I shall endeavour to combat them with a little more foresight, a much needed diary and maybe a touch more cake.
vegan chocolate cake with peppermint buttercream filling and dark chocolate ganache
chocolate cake (original recipe here)
1 1/4 cups plain flour
1 cup organic caster or granulated sugar
1/3 cup cocoa powder
1 tsp baking soda
1/2 tsp bicarbonate of soda
1/2 tsp salt
1 cup luke warm water
1 tsp vanilla extract
1/3 cup sunflower oil
1 tsp cider vinegar
Pre-heat the oven to 175 degrees celsius/350 fahrenheit. Line a 7 inch cake tin with grease proof paper.
In a large bowl combine the flour, sugar, cocoa powder, baking powder, bicarbonate and salt. Thoroughly combine with a spatula ensuring the cocoa powder is completely dispersed.
In a smaller bowl combine the water, oil, vanilla extract and cider vinegar and add to the dry ingredients.
Using a rubber spatula combine all the ingredients until smooth.
Transfer the cake mixture to the tin, scraping down the sides of the bowl with the spatula – you won't want to waste a drop of this luscious mixture!
Bake in oven for 40-50 minutes depending on your oven, i.e. check it at 40mins, inserting a skewer into the of the cake. If it comes out clean it is ready. If not, leave it to bake for a further 10mins.
Remove cake from oven and allow to cool slightly before attempting to remove it from the tin. Cool for two hours on a cooling rack for at least two hours.
peppermint 'buttercream' filling
1 tbsp soya spread (or any other vegan spread of your choosing)
1 cup unrefined powdered sugar
2 tsp peppermint extract
1 tbsp soya milk
Combine all the ingredients in a medium sized bowl and beat together until completely smooth. If it is too thick to spread add a little more soya milk or, vice versa, if it too runny thicken it with a touch more powdered sugar.
When the cake has completely cooled, carefully halve it using a sharp knife. Lift the top half off and evenly spread the 'buttercream' mixture on the bottom layer. Carefully place the other half of the cake back on top.
dark chocolate ganache
1/4 cup soya milk
1 tsp soya spread
3/4 cup dark chocolate buttons
Using the double boiler method heat the soya milk and spread until the spread has melted. Add the chocolate buttons and allow them to melt, using a rubber spatula to combine the ingredients until you achieve a completely smooth, glossy mixture.
Take off the heat and let the mixture cool for several minutes before pouring over the cake. Using a palette knife or spatula cover the whole cake in the chocolate ganache. Allow to cool for at least an hour before serving.
This was a post I meant to publish before I went on holiday – hope you don't mind my terrible tardiness!
The weather has been absolutely glorious over the past week but as I've been in London I haven't really been able to take advantage. It was great then to eek out the last of the 'summer' when I returned by having a long awaited bbq on the beach – we've only experienced one beach bbq the entire time we've lived here!
You might also have noticed a distinct lack of posting recently and for that I can only apologise. I'm currently in the process of getting my life together, which might sound a tad dramatic but I can't think of a better way to explain it.
Since deciding to change direction and go down a distinctly different career route everything has been a little nuts around here, even resulting in me going to London for a weeks work experience at a Magazine – hence the brief hiatus!
I cannot tell you how great it was to be back in the Capital. As much as I adore Cornwall, I have missed the hustle and bustle of London Town. The fact the weather has been outrageously good was an unexpected bonus and to be honest I felt more alive than I have done in months. I've mentioned before how the lack of contact  down here has been excruciating, so staying with my Sister was the perfect remedy to get me back on track.
Coming back to Cornwall, I realised that with our imminent departure looming I had to make the most of every second we have left in this magnificent county. Our sunset bbq could not have been nicer and for those of you who think that being vegan means you can't enjoy a good grill fest, then let me immediately qualm those unwarranted worries and let you know what we enjoyed….
corn on the cob – grilled until it's gorgeously caramelised
vegan sausages – grilled and served in a grilled pitta along with salad, hummus, couscous salad and lashings of Nandos Hot Sauce; I'm all about the sauce!
cherry tomatoes
stuffed olives
fresh orange juice
moroccan couscous
After eating a couple (Hubbie put away three!) of those pittas we were full to bursting although I did sneak a few more toms and olives later on in the evening, which I enjoyed with some fine American ales our Chicagoan friends kindly gave us the previous week.
Not exactly a recipe but I hope it's a little vegan inspiration nether the less x
I'm in France. Yay!
At a McDonalds. Boo:(
Before you all go sending me hate mail though let me explain myself. We're currently visiting Hubbie's parents and there's nowhere with wifi for miles around and we were desperate. So here we are sat in a Maccy D's with a Grande Cafe in hand – please God don't tell me there's ground up shellfish or some lark in it because that really is the last thing I need to hear. There isn't ground up shellfish in it though, is there? Just checking.
You can't be too careful in France, they love to slip animal products into everything – and I do mean everything! We'd barely arrived when I'd already bitten into something that contained, wait for it and have a sick bucket at the ready, goddamn pork (or should that be porc?). Sweet Lord, that was not a pleasant moment and I actually almost passed out. No, seriously, I had to sit down and gather myself. It was the first time meat has passed my lips in quite some time and it was worse than I could ever have imagined. Luckily I didn't shallow any of it – small mercies and all that – but just knowing it was inside my meat free mouth for even a few seconds was enough to send me into a tailspin.
Hubbie didn't know what to make of it so remained silent throughout my little meltdown – bless him. Suffice to say, I learnt a hard lesson – never buy supposedly 'vegan' food from a street vendor with limited English. Onwards and upwards, we braved the supermarkets and so far we've been pleasantly surprised and have stocked up on organic (bio) soya milk for our tea, vegan mayo, vegan pates, dairy free sorbet, veggie 'steaks' and so on and so forth.
I will go into way more detail when I get back to Blighty(there'll be bluebirds over……sniff), as I'm sure lots of you want to know how to eat vegan in the most vegan unfriendly place on the planet – of this I am sure.
For now though, be rest assured we are feeding ourselves well and enjoying our stay in what is a truly beautiful Country (eating habits aside). It really feels autumnal here and we've taken wonderful walks in the woodlands, along the coast and in outrageously quaint towns and villages. We've also been chilling like there's no tomorrow – log fires, movies, copious amounts of tea and endless chatter.
I was actually kind of dreading opening up my email (the real world beckoned- ugh!) but when I saw my veggie award I couldn't have been more ecstatic. It's so nice to be recognised in this way, I am truly chuffed to bits. Thanks to all my wonderful readers for making this possible and my Mum and Dad and….too much? Ahem. Seriously though, pleased as punch, so ta very much x