This is a love it or loathe it type post. Faux fur is a contentious issue and for good reason – you're either 100% comfortable donning a garment made to resemble that of an animal skin or you're not. Some people would argue the fact such a garment looks completely fake is irrelevant, as the mere suggestion of skin for clothing is one that is in bad taste.
If you take this stance, however, be prepared to forgo all leather look items, as surely these imply the same thing? Nowadays faux leather is so convincing that, without being told to the contrary, most people simply assume it is the real deal. I myself have been 'called out' on a pair of very authentic looking leather look wedges only for the person to be corrected in their misassumption.
It wasn't very long ago when I was chatised for wearing a leopard print cardi so I assume there to be very strong opinions on this little number – faux fur jacket and earmuffs no less! Before y'all go hating on me though can we focus on the stripy tee underneath the faux thing?
Organic cotton from Zara and part of what would seem to be the high streets increasing awareness of the part they play in sustainable fashion – or lack thereof, as the case may be. I must admit to not being able to shop guilt free for quite some time now. Every purchase I make, I usually make with a heavy heart, which kinda kills your shopping buzz but hey, maybe that's a good thing?
Part of me is glad I'm no longer the person who goes storming round the shops buying anything I desire without questioning its material, origins or indeed my motives – because, let's face it, I rarely need that new pair of shoes or umpteenth dress, top, skirt, whatever. So, everything I now buy is what I call a considered purchase and it comes with a list of internal questions:
1. what material is it made from?
2. where has it been made?
3. what is this particular stores ethical policy?
4. do I really need it?
Depending on the particular item there may or may not be a few additional questions because vegan does not always equal ethical nor does a vegan choice absolve you of all other shopping 'sins'. Who in the heck wants to equate shopping with sinning anyway but unfortunately for me much of the joy I once got from hitting the high street has dissipated somewhat.
That doesn't mean I don't still crave clothing because I do. I love fashion, always have and doubt that will ever change. But now that I've got the 'list' and a rather weighted conscience, I fear I will never be able to shop with the same sheer abandon as I used to.
Just as well then that my Mother bought me both the organic cotton stripy tee and the purple cords I'm wearing in these shots, which meant I could fully enjoy them without feeling like I might have contributed to a child slavery ring in the Far East or furthering the increasing hole in the ozone layer. Phew!
By golly this conscience lark can but be a bore sometimes.
p.s. thanks for the goods Ma! (she hates it when I call her that)
faux fur coat: urban outfitters, faux fur earmuffs: h&m, purple cords: jigsaw, organic cotton stripy tee: zara, scarf: vintage, mustard faux leather belt: m&co, grey ankle boots: office, large green ring: m&co, yellow brooch: noa noa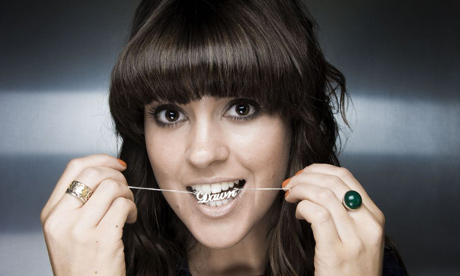 heart you Dawn x
I'm in one of those crappy moods where I feel like the world is against me and 'I don't know why I bother because everything I do is rubbish anyway'. Ugh. There's no real reason why I should be feeling this way although I put most of it down to being ill and the 'come down' from my fortnight in London.
We've talked before (well, I've talked, you've listened) about my abundant self doubt, sporadic self loathing, massively inconvenient inferiority complex and to be honest this schtick is getting old. I'm bored of having these recurring periods of feeling like a big fat failure and I'm also more than a wee bit tired of allowing others peoples words and opinions to affect me so greatly and it seems I'm not the only one.
At this point I should say if you don't already know who Dawn Porter is you should immediately google her, watch her youtube vids/showreel and follow her on twitter (@hotpatooties). This lady is funny, smart, beautiful, successful and more than a little quirky. In essence, I wish she were my bff and we could hang out, talk nonsense, laugh (a lot), drink wine and eat – a girl who likes her food is a girl after my own heart. You might say I have a slight girl crush on Dawn and have done for quite some time – her documentary Seriously Dirty Dancing merely confirmed what I had suspected in Super Slim Me, this girl rocked hard.
You'd think then, that someone with an awesome career, endless talents, an adorable face and enviable relationship (did I mention she's dating funnyman Chris O'Dowd? It must be a howl a minute in their gaff!) would allow others negativity affect them. I mean, what does Dawn care if some loser doesn't think she's the bees knees when she has several thousand other people telling her how fabulous she is on a daily basis? But that's the thing with criticism. No matter how many compliments we may receive in our lifetime, we will always focus on the few times someone told us we sucked.
This is exactly the position I'm in at present. There are so many wonderfully exciting things happening in my life, all of them positive, and yet I am honing in on a few silly indirect (yet totally direct, if you get me?!) comments that I'm sure were made to either put me in my place or simply make me feel like s***! It's so maddening it makes me want to scream, which I'm sure is precisely the desired reaction – so great, you win, you happy now?
The thing is, I'm almost one hundred percent sure these people are not happy at all, otherwise why would they waste most of their time hurling insults at others and demeaning everything they do. Just why? Why do you do it? I don't spend my days trawling the internet looking for someone to direct my frustrations at because I see it as a completely pointless exercise. Let it be known, the internet does not give you carte blanche to be a dick.
I was at the height of my crappy mood yesterday and trawling through the archives on Dawn's blog (TheDawnReport – read it, funny as heck) when I came across a post I hadn't previously read. This more than timely blog post came at the most opportune moment – when I felt like punching a hole through my computer screen – and made me realise what I already knew but needed to hear from someone else. The title of the blog post that rescued me from irrevocably hurting my purple dell? Bitching doesn't make anyone feel good. How totally completely right on is that?
Like the girl says, none of us are perfect and, yes,  like many people I enjoy a good 'ol bitch now and again in the privacy of my home and primarily with my Hubbie, Mum, Sister or Friends but very little of it is malicious or unprovoked – that's my story and I'm sticking to it – and I would never dream of posting snide remarks that I know will ultimately hurt someone on the internet. Again, why? We all have our gripes. It's natural to have differing opinions and just because we might not see things in the same way, doesn't necessarily mean we have to actively and publicly ridicule one another.
Luckily for Dawn she received an apology from her hater but I doubt I will ever get one from mine as I'm not even sure they realise they are one. Like Dawn, I feel disappointed in myself for caring so much. It should be entirely irrelevant to my happiness but when someone consistently derides your every move it becomes magnified and, no matter how zen you try to be, it inevitably encroaches on your life. In times like these, it's difficult to remember that the only reason we tend to criticise others is when we ourselves feel threatened or are in some way envious of their life:
Dawn concluded….
I will be grateful to Mr P forever now. Not for calling me names in the first place, but for reminding me that people who attack other people are the ones with the problem. Otherwise, why the on earth would you do it? What decent, normal or happy person feels the need to put others down or make anyone feel like crap about themselves?
Equally, I'm not sure whether I can say I'm grateful for the nasty remarks I've taken too much to heart but what I will promise myself is to try my very best not to let it affect how I conduct myself either on the internet or in 'real life'.
I like me. My Husband likes me. My Family like me. My Friends like me. And regardless of what a few people might think about me, this is what really matters. Perhaps these people hope you might stop believing in yourself (wishful thinking hater) but I am here to emphatically exclaim that I'm stronger than you think! All the hating in the world won't stop me from doing the things I enjoy or pursuing a 'pie in the sky' career. I may not the loudest girl on the block but I'll defend myself if and when I have to. Your words do hurt and probably will continue to but just so you know, they won't alter my perception of myself nor will they quash my dreams, desires or ambitions. So there.
Just in case you didn't get the message, here's another pearl from Dawn:
Imagine a day when everyone is just really nice. A day when you tell the people you admire why, and rather than tell people you hate them you just leave them alone and click 'unfollow'?
Cue empowered woman and empowering song………
I'm sick:(
Sore throat, headache, zero energy, I hate it.
I'm not very good at being still so illness doesn't suit me and I have so much to do (like say packing!) that this cold is an inconvenient irritant. However, nothing was going to stop me from missing yet another WIAW. So, here I am, with a few dismal food photos in hand to show for my day on the couch – I feel like the shot of the sliced pears and lemon&ginger tea accurately reflect how I was feeling at that particular moment of the day. Drained and dark.
To perk myself up I decided to indulge in some Nigella (her shows never fail to cheer me) and even though I may be vegan, I still find her food fascinating and delicious. It doesn't hurt that she oozes glamour and sophistication and quite honestly I could listen to her poetic food musings all the day long.
Her writing is just as evocative and one of the reasons I often pull her cookbooks off my shelf. Sometimes just leafing through Nigella Christmas is enough to lift my mood and inspire me in the kitchen and that's exactly what happened tonight.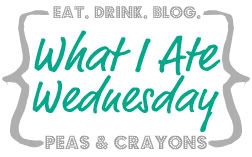 Despite having limited energy I found myself peeling, chopping, sauteing and stuffing some fabulous portobello mushrooms, which we ate between warm crusty granary rolls with a whole heap of potato wedges. Quite honestly it was a triumphant dinner and just what I needed to mend my slightly broken body – feed a cold and all that…
I'm seriously starting to fade now though so allow me to crack on with my daily eats.
Breakfast
Oatmeal made with water  and soya milk served with fresh blueberries, chopped walnuts, mixed seeds, flaxseed meal, hemp seeds and a squidge of golden syrup.
Lunch
Baxter's Carrot and Butterbean Soup (amazeballs for a tinned soup) served with toasted rye bread spread with hummus and a little thai sweet chilli dipping sauce.
Snacks
Sliced pear and a lemon&ginger tea.
Cup of black tea with soya milk and a rice cake topped with crunchy peanut butter and blackcurrant jam.
Dinner
Baked stuffed portobello mushroom 'burger' served on a bed of spinach leaves in a 'bake at home' crusty granary roll – I spread each side of the roll with hummus too. We also had a pretty large serving of wedges – frozen, bad girl. I am sick though.
Here's the rundown on the stuffed mushroom:
Ingredients
4 portobello mushrooms – peel and reserve the stalks.
For the stuffing
1/2 onion finely diced
reserved mushrooms finely chopped
1 garlic clove
1 tsp dried thyme
1/4 cup freshly chopped flat leaf parsley
1 slice of bread made into  breadcrumbs
vegan butter
olive oil
salt and pepper
method
Pre-heat the oven to 200 degrees celsius/390 fahrenheit.
Heat a tablespoon of oil and vegan butter in a skillet and add the onion. Season and sautee gently until it begins to soften. Mince the garlic. Add the finely chopped mushroom stalk to the pan and cook for a minute or two with the onion before adding the garlic and dried thyme. Season and allow to cook for a few more minutes.
Add the breadcrumbs and a further tablespoon of vegan butter and take off the heat. Stir in the chopped parsley, season and mix until thoroughly combined.
Using a small spoon divide the mixture between the four mushrooms and pack tighly using the back of the spoon or your fingers. Place on a lightly greased baking sheet and bake in oven for 30minutes.
Serve!
You may have already deduced my internet absence is down to an almost complete change of circumstances for me. I can confirm that plan move Londinium is pretty much well under way and we now have less than a month in our current abode. To say this is completely and utterly terrifying would be an understatement.
Neither of us thought we'd be moving so soon but whilst I was staying with my lovely little Sister recently the flat above hers became available and after a single viewing I decided it was absolutely the one for us. Like our Cornish flat, it is at the very top of the house (a Victorian one this time), built into the eaves with lots of character and plenty of space – two bedrooms this time, which means our visitors get their own bed!
I'm desperately trying to qualm my excitement at this stage because not everything has been finalised but we are finding it very difficult to contain ourselves (plenty of spontaneous dancing has already occurred). And because we are moving before Christmas we now get to put up our Christmas tree (can I have a woot!!!) and seeing as we are complete Crimbo nut jobs this has also added to the frenzied state we have subsequently found ourselves in.
I tend to do a lot of fretting and this relocation is no different to any other but we've become pros at this moving game so everything is underhand. For now.
Even though I may not have been blogging, I sure as heck have been a busy bee and loving every second of it. Subsequently I've had to adapt my cooking style because I have limited time on my hands. However, I'm really relishing whipping up fuss free meals and must concede to not enjoying them any less than my usual fare, which usually takes well over an hour to prepare, yikes!
For the future, I will have to rely on some convenience food (baked beans on toast is a saviour in such circumstances) and also find short cuts in my evening meal prep – so far, I've only opened one jar but I fear there may be many more to come. Of course, I will try to maintain some diet equilibrium, as my body doesn't react tremendously well to pre-prepared food in vast quantities.
This coconut mung bean curry is a reasonably quick and easy affair. The trickiest thing about it is remembering to soak the mung beans the night before – I didn't and made do with an afternoon, which just about sufficed. They did take a tiny bit longer than usual to cook but the good news is they retain their shape so well you're unlikely to overcook them.
I adore this curry and have made it many times before. It is perfect served with rice or noodles and wonderful when paired with roasted spiced potatoes. Just like a dhal, it's one of those dishes that requires minimal tampering – occasional stirring, a wee bit of patience and you're good to go. Enjoy!
coconut mung bean curry (makes four generous servings)
1 tbsp coconut oil
1 onion
2 garlic cloves
1 thumbsized piece of ginger
1 cup dried and soaked mung beans
1 can (approx 1 1/2 cups) full fat coconut milk
1 tsp cumin
3 cups of water
salt and pepper
Method
Heat the coconut oil in a heavy based saucepan.
Finely chop the onion and add to pan. Salt, clamp on lid and allow to soften on a medium to low heat for several minutes.
Mince the garlic and ginger and add to pan. Season with salt and pepper, stir, clamp on lid and allow the flavours to infuse.
Drain the mung beans and rinse. Add to the pan along with the softened onion, garlic and ginger and stir to combine.
Pour in the coconut milk, 1 cup of water, cumin, season, stir and bring to a gentle simmer.
Add the remainder of the water gradually – as the beans absorb the liquid. You never want it too dry so remember to periodically stir and top up with the water.
Simmer for at least an hour until all the water has been used and the beans are thoroughly cooked. Season generously. Serve immediately or gently reheat the next day – you may need a little more water to loosen it if you choose to do this.
Job and Flat hunting have become my latest obsessions. When I'm not trying to complete my assignments for my styling course, I'm trawling the net for that perfect abode and even more perfect employment status to go with. It's all part of my current reinvention.
At college I got every job I applied for – interviews are my thing – so I never really experienced failure in that way. I already had my teaching job lined up before I'd graduated and from there I went straight to Drama School and then into the world of acting. Here, I experienced many many rejections, however, as it's par for the course in the business, I stoically took every rebuff on the chin, dusted myself off and promptly got back in the saddle (so to speak – I'm not condoning/condemning horseback riding).
Anyhoo, now that i'm venturing into the world of fashion, a certain fear has suddenly overtaken me. The fear of failure. As far as I'm concerned, this is my chance to make a real career for myself and the thought of not succeeding has rendered me a bag of nerves. So, when, after applying for my first ever stylists assistant job in London, I managed to bag myself an interview, I almost pooped myself with excitement but was also completely gripped with…..fear.
Fear. It's an unfamiliar emotion. I have never been the fearing kind. My normal response is to dive head first into anything and everything. I'm a trier. I don't say, I do. I like to grab the bull by the horns (again, just a turn of phrase – oh God, this isn't going well….ahem) and give things a whirl, whatever the outcome may be. I'm pretty certain if I didn't possess this gung ho attitude, I wouldn't have accomplished even a quarter of what I have to date.
Why then, am I now suddenly wracked with worry and fear? I'm in the prime of my life and yet more than a little concerned this may be my metaphorical last chance saloon. I'm so anxious the life I've envisaged for myself (I want a mortgage godammit!) will never materialise because when I should've been climbing up the career ladder I was prancing around on stage, singing, swaying and talking nonsense, all for the satisfaction of a round of applause. There was a period (in the not so distant past) when all that mattered to me was performing and whether I got paid was simply an added bonus. How times have changed. Show me the money!
Of course, I don't regret one moment but that doesn't mean I don't think about where I would hypothetically be if I had taken a different path earlier in my life. Then again, maybe I wouldn't be the same person. Surely all my experiences, choices and happy accidents have shaped the person I am today? Perhaps the determination to succeed in this new industry would not be so fierce if I hadn't lived the life of a struggling actor. Maybe I wouldn't appreciate how glorious stability can be if I hadn't spent months away from my Husband on tour. Clearly, I need to wise up and shake this silly, unnecessary and inconvenient fear once and for all. I need to (wo)man up and get on with it.
What has all this got to do with with Chestnut Chews? Absolutely bog all. They taste flaming awesome though, so, enjoy!
Words of wisdom and encouragement more than welcome x
chestnut chews
ingredients:
5 medjool dates
1/4 cup walnuts
1/4 cup pecans
1/4 cup oats
3 tsp flaxseed meal
pinch of pink Himalayan salt (or rock salt)
2 heaped tsp sweetened chestnut puree
method
place the oats, pecans and walnuts into the hand blender/food processor and grind to a coarse powder.
stone and roughly chop the medjool dates and place them in the blender along with the flaxseed meal and chestnut puree. Blitz until the mixture comes together in a thick rubble – you may need to periodically scrape down the sides with a spatula.
take 2 tsp amount in you hands and roll into a ball. place on some greaseproof paper and repeat – you should get approx ten balls out of the mixture.
place the 'chew's' into the fridge or freezer and allow to set for an hour or two.
then, chew away!