Seasalt, that magnificent Cornish brand I have a mild obsession with, kindly invited me to their press day at The Gallery Soho on Thursday to have a gander at their S/S13 collection – their main line plus the adorable 'Summer on Scilly' range. Not only was I enthralled by the precious prints, gorgeous fabrics and perfect accessories but the girls themselves were so sweet I ended up staying for an age gossiping about the brand, cream teas and all things Cornwall…..hands down the best press day I've attended.
They've been experimenting with shapes, necklines and styles – I'm particularly loving the new square neckline, which is so wonderfully understated retro; exactly what I'll be rocking next summer. Not forgetting the ridiculously cute embroidered pieces that were folksy perfection. Want, want, want. Need, need, need.
Of course, no press day would be complete without refreshments and these were provided by Tregothnan, an English tea company that actually has a plantation near Truro in Cornwall. How utterly cool and fabulously British is that? Obviously I don't drink milk so I sampled the tea au naturel and it was seriously fantastic. The scones topped with clotted cream and Tregothnan's own plum jam looked so incredible too, I couldn't resist photographing one.
I didn't go away empty handed either, as everyone who attended the press day received a lovely (and large) tote bag, lined with a super cute gingham print, which contained a gorgeous cotton scarf, some Tregothnan teabags and a little tub of lip balm, that I actually really needed because my lips have been quite dry of late, ahem.
All I can really ask is…..is it summer yet?
1. Grapefruit on a Saturday morning. Preferably prefixed by a coffee. Well, you gotta balance the good with the bad, right?
2. Making my house flat a home. Aided by my accumulated nik naks, which all have a place in my heart and some of which are lovingly displayed on and in my beautiful retro unit, which we were given free of charge from a vintage shop in Cornwall when it was closing. Sad but also good. I had previously bought some dessert forks from the same place so I didn't feel too guilty.
3. Lilac nails. Officially my new favourite nail colour and also happens to be the exact shade my mother wore on her wedding day (yes, she was and is still that cool). I was kindly gifted the varnish in question by the lovely Claire Brayford, who is Deputy Fashion Editor at The Daily Express – yay and thank you Claire!
4. My 2012 Chinese Calendar, which brightens up the wall in our kitchen and completes our curious collection of all things retro, vintage and kitsch (nothing is more kitsch than a Chinese Calendar, surely?). You say tacky. I say amazeballs. Note the name of the establishment where we got said calendar, namely the Sea Palace in wonderful, magnificent, glorious Penzance. If you are ever in the vicinity(and you really should make it a point to be) you must, must, must check this place out – the deep fried tofu alone will blow your mind! No word of a lie – I often fantasize about the stuff.
5. My 60's fruit bowl, which is a brilliantly odd but actually extremely practical shape. It displays our fruit with aplomb and was met with great admiration by my Husband when I brought it home from Oxfam one day (I believe it set me back 90p). We are major designs freaks and especially love anything of the 60's Danish Teak variety and this fruit bowl kinda alludes to that style. We both majorly heart it.
After listing these lovely things it suddenly occurred that most of it was free, gifted or cost very little money. In fact, I think the most expensive item might actually be the grapefruit, which is pretty mental considering it will have given me pleasure for the least amount of time – not that I measure such things in that way but you get my meaning?! Anyway, it's food for thought, wouldn't you agree?
What things do you love? Photograph them and share. Happy final weekend of January everyone – it only gets better from here on in! xxx
Some of you may know I am venturing into the world of styling at present and have been gaining work experience at various magazines, namely Closer magazine in London and Wed Magazine, here in Cornwall. Both experiences have been vastly different but equally fascinating and I can safely say I am sold.
Coming from a performing background I have become accustomed to variety in my professional life and the magazine industry seems to offer that strange but very welcome combination of a stable income coupled with diversity and masses of creativity.
It's been a seriously interesting couple of weeks culminating in two fantastic photo shoots for Wed.
Whilst I am more than familiar with film sets, I had never been on a fashion shoot, so this was real eye opener for me. From beginning to end, I lapped up every morsel, trying to learn as much as I could from the professionals around me and was even given some styling responsibilities, which was beyond thrilling.
Not only that, because of my blogging credentials, I was asked to write up a couple of blog posts for their site – I also took the behind the scenes photos for both posts, which you can see here and here🙂
What stands out most from my week at Wed and indeed at Closer are the people and personalities I encountered. It was so great to be surrounded by professionals who were passionate and that passion was infectious. So much so, I am now itching to get to London to bag me that dream job.
Dream on?
Perhaps and yet I am feeling positive. Long may it last!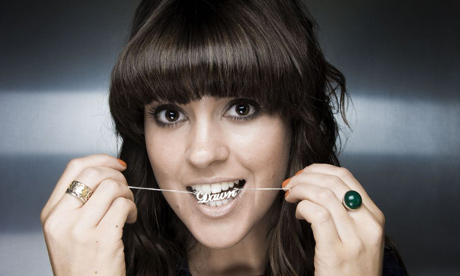 heart you Dawn x
I'm in one of those crappy moods where I feel like the world is against me and 'I don't know why I bother because everything I do is rubbish anyway'. Ugh. There's no real reason why I should be feeling this way although I put most of it down to being ill and the 'come down' from my fortnight in London.
We've talked before (well, I've talked, you've listened) about my abundant self doubt, sporadic self loathing, massively inconvenient inferiority complex and to be honest this schtick is getting old. I'm bored of having these recurring periods of feeling like a big fat failure and I'm also more than a wee bit tired of allowing others peoples words and opinions to affect me so greatly and it seems I'm not the only one.
At this point I should say if you don't already know who Dawn Porter is you should immediately google her, watch her youtube vids/showreel and follow her on twitter (@hotpatooties). This lady is funny, smart, beautiful, successful and more than a little quirky. In essence, I wish she were my bff and we could hang out, talk nonsense, laugh (a lot), drink wine and eat – a girl who likes her food is a girl after my own heart. You might say I have a slight girl crush on Dawn and have done for quite some time – her documentary Seriously Dirty Dancing merely confirmed what I had suspected in Super Slim Me, this girl rocked hard.
You'd think then, that someone with an awesome career, endless talents, an adorable face and enviable relationship (did I mention she's dating funnyman Chris O'Dowd? It must be a howl a minute in their gaff!) would allow others negativity affect them. I mean, what does Dawn care if some loser doesn't think she's the bees knees when she has several thousand other people telling her how fabulous she is on a daily basis? But that's the thing with criticism. No matter how many compliments we may receive in our lifetime, we will always focus on the few times someone told us we sucked.
This is exactly the position I'm in at present. There are so many wonderfully exciting things happening in my life, all of them positive, and yet I am honing in on a few silly indirect (yet totally direct, if you get me?!) comments that I'm sure were made to either put me in my place or simply make me feel like s***! It's so maddening it makes me want to scream, which I'm sure is precisely the desired reaction – so great, you win, you happy now?
The thing is, I'm almost one hundred percent sure these people are not happy at all, otherwise why would they waste most of their time hurling insults at others and demeaning everything they do. Just why? Why do you do it? I don't spend my days trawling the internet looking for someone to direct my frustrations at because I see it as a completely pointless exercise. Let it be known, the internet does not give you carte blanche to be a dick.
I was at the height of my crappy mood yesterday and trawling through the archives on Dawn's blog (TheDawnReport – read it, funny as heck) when I came across a post I hadn't previously read. This more than timely blog post came at the most opportune moment – when I felt like punching a hole through my computer screen – and made me realise what I already knew but needed to hear from someone else. The title of the blog post that rescued me from irrevocably hurting my purple dell? Bitching doesn't make anyone feel good. How totally completely right on is that?
Like the girl says, none of us are perfect and, yes,  like many people I enjoy a good 'ol bitch now and again in the privacy of my home and primarily with my Hubbie, Mum, Sister or Friends but very little of it is malicious or unprovoked – that's my story and I'm sticking to it – and I would never dream of posting snide remarks that I know will ultimately hurt someone on the internet. Again, why? We all have our gripes. It's natural to have differing opinions and just because we might not see things in the same way, doesn't necessarily mean we have to actively and publicly ridicule one another.
Luckily for Dawn she received an apology from her hater but I doubt I will ever get one from mine as I'm not even sure they realise they are one. Like Dawn, I feel disappointed in myself for caring so much. It should be entirely irrelevant to my happiness but when someone consistently derides your every move it becomes magnified and, no matter how zen you try to be, it inevitably encroaches on your life. In times like these, it's difficult to remember that the only reason we tend to criticise others is when we ourselves feel threatened or are in some way envious of their life:
Dawn concluded….
I will be grateful to Mr P forever now. Not for calling me names in the first place, but for reminding me that people who attack other people are the ones with the problem. Otherwise, why the on earth would you do it? What decent, normal or happy person feels the need to put others down or make anyone feel like crap about themselves?
Equally, I'm not sure whether I can say I'm grateful for the nasty remarks I've taken too much to heart but what I will promise myself is to try my very best not to let it affect how I conduct myself either on the internet or in 'real life'.
I like me. My Husband likes me. My Family like me. My Friends like me. And regardless of what a few people might think about me, this is what really matters. Perhaps these people hope you might stop believing in yourself (wishful thinking hater) but I am here to emphatically exclaim that I'm stronger than you think! All the hating in the world won't stop me from doing the things I enjoy or pursuing a 'pie in the sky' career. I may not the loudest girl on the block but I'll defend myself if and when I have to. Your words do hurt and probably will continue to but just so you know, they won't alter my perception of myself nor will they quash my dreams, desires or ambitions. So there.
Just in case you didn't get the message, here's another pearl from Dawn:
Imagine a day when everyone is just really nice. A day when you tell the people you admire why, and rather than tell people you hate them you just leave them alone and click 'unfollow'?
Cue empowered woman and empowering song………
So, it occurred to me recently that this is the nicest flat we've ever lived in. Not that it's the most modern, nor the one with the most mod cons (it disappointingly lacks a dishwasher) but in terms of size, space and general feel, it's the one that suits us most as a couple.
A few people have asked about my photos – what camera do I use, how much do I tweak them etc –  and the answer to many of these queries lies not in the fact I own a fancy schmancy camera and run all my photos through lightroom, but in the magnificent light that bathes our top floor apartment with its original Georgian windows and perfect angle to the sea. I love it.
In that sense, I owe the good photos that I occasionally manage to take to this little Penzance flat we call home.
In a few months time we'll be moving on, which means leaving our Cornish haven and everything we have established here. It's sad but it's also exciting and rather than get all melancholic about it, I've decided to record the bits that make me happy. It's not difficult for my possessions to look great when they are displayed in a space that was originally intended for a gallery.
White walls, white floorboards, some might call this a nightmare. People marvel at how I manage to keep it clean, but in truth its really not been difficult at all, and as I take extreme pride in our beautiful abode, it brings me abundant joy to make it look pretty and nice.
I only hope the flat we find in London can in some small way match the charm of this one. Trying to find a place that reflects our personalities and is suitable for our furniture, most of which is from the 50's, 60's and 70's, including our spindleback sofa, smoked glass coffee table and uber 70's recliner. I can't imagine we will top the magnificence of this bright white space that displays our possessions so perfectly but I'll certainly try my damndest.
Luckily I have a bit of a talent for flat hunting and so far have come up trumps every time – fingers crossed I can get it right again. Pretty much every flat we've lived in has required a bit of arm twisting my end and this flat was no different. When my Husband discovered it was right next door to his childhood home (we can see his old bedroom window from our livingroom) he initially refused to even view it. But I knew it was special. As soon as he stepped foot in it he too was convinced it ours.
Yet, here we are, just over a year later, planning our next adventure in London. Life for us is ever changing and ever unpredictable and for now that's just the way we like it. I have a feeling though that this little home will remain in our hearts for a very long time.
For me, it was the first time I was really able to put my own stamp on a place. It lent itself so brilliantly to my taste and style, which is why I wanted to capture it on camera, so that when I'm miserable in London I can reminisce about our dreamy Cornish life.
Of course, I don't really think I'll be miserable in London, I'm just merely being dramatic. However, I can't say I won't weep for my walk in closet or mope about when I'm longing for a long soak in a non existent bathtub – realistically our London flat will most probably only have a shower.
 I heart bird prints
Despite all this and many more misgivings, I am optimistic about our imminent London life and there are so many positives (like, say, a career!) that I'm sure the moments of doubt and regret will be fleeting.
Now that you've had a virtual peek inside my home, I hope you'll understand me a bit better. I find that people's possessions, the things they choose to surround themselves with, speak volumes about the kind of person they are…..and I know very few people who don't love a good nosey;)
Thankfully the light was particularly fantastic when I took these shots and accurately reflect the dreamlike quality of the flat. It's a super calming place to live and I can honestly say I've never slept better than in this apartment – it is so unbelievably tranquil and the bed is built into the eaves, which makes it feel extra cosy and safe.
There's not much more to say then other than…..
Goodbye my lovely Penzance home. Goodbye my much coveted walk in closet. Farewell my wonderful bathtub (and shower with excellent pressure, I appreciate it). So long, small but perfectly formed, kitchen and superb smeg gas stove (the oven can go screw itself). Adieu the most comfortable bed I've ever had the pleasure to sleep in, I will sorely miss feeling like I'm in a cosy cocoon. Oh darling little flat, right smack dab in the middle of town (and almost on the roof), how I will miss thee. I promise to forever remember you fondly. Be good to the next tenants, but be sure to love them just a little less than us  – I'm the jealous sort. Love, Me x
This walnut, squash and apple bread is my latest contribution to wonderful online publication One Green Planet. In case you weren't already aware I am all about the bread. Sweet bread that is. We had some Chicagoan friends staying with us for the weekend a while back and I wanted something wholesome with a nod to naughtiness – the naughtiness here being the sugar!
I've come to the conclusion that I am indeed addicted to the white stuff. Even though the sugar I consume is mainly organic, unrefined, I cannot kid myself any longer and must concede to calling a spade a spade – or in this case calling sugar, well, um, sugar.
Like with my soy consumption, which I've desperately tried to curtail over the past six months, sugar remains a bigger part of my diet than I'd like. I've resigned myself to the fact that whilst I will continue to drink soya milk and use sugar in my baking I can try to avoid excess intake by limiting my processed food. So far it's not been working out too badly although I couldn't resist a jar of sweet and sour sauce from Marks and Spencer, which looked far to good to pass up. I haven't used it yet but I plan to serve it with crispy fried tofu and whiter than white rice – if I'm going to be bad I might as well go the whole hog, so to speak (bad turn of phrase?).
I don't mind then that this walnut and squash bread has a cup of sugar in it because with my logic that sugar was subsequently divided by five (people), which ain't all that bad in the grand scheme of things. Besides, the bread tasted incredible and surely that's what food is all about – taste – and if sugar does one thing, it makes food taste gooooood. Am I right or am I right?
In other news I am slowly but surely getting my recently all over the place life back on track. I've been searching for a diary/personal organiser for weeks now and me being me, it came with a list of requirements – not  leather bound (you'd be surprised how many diaries are!), small enough to fit into my bag(s) yet with sufficient space to note several items in one day/week, FSC certified paper and preferably in the style of a filofax without actually being a filofax. After failing miserably to find any organiser that fitted all these requirements I was forced to admit defeat and purchase, wait for it, a……filofax! Ugh.
Thankfully it is cotton covered but I'm pretty sure the paper is from the Brazillian rainforest or summat along those lines but the fact I could not find one decent vegan diary was slightly alarming and depressing. Another thing that depressed me this week was the discovery that propolis is an animal derived ingredient that I have been using, blissfully unaware of its origins. Tom's of Maine make my favourite toothpaste and when it clearly says on the back of each tube 'contain's no animal ingredients' I tend to believe it. Call me gullible, a sucker or indeed stupid but I take these things at face value otherwise I'd eat/use/wear nothing for fear that it might conflict with my vegan credentials. Hah! What a fool!
Indeed, I even went so far as to recommend this very toothpaste on my latest Youtube vlog until I was kindly informed by LovingVegan that I had made a huge error in recommending this as a vegan toothpaste when it simply isn't. Lesson learned. Google everything.
If you want to read Tom's justification for using propolis you can find it here. Personally, I felt a little duped and was disappointed in Tom's (yes, I know they're owned by Colgate but still). It is more than deceptive to boldly claim a product contains 'no animal ingredients' when it quite plainly does, no matter what your twisted reasoning behind it is. Now, of course, I'm torn because, like I said in my vlog, I've tried the Weleda plant gel and pretty much hated it (sorry Weleda) and well, even though I'm loathed to say it, I really love this toothpaste. Obviously I won't be purchasing this particular variety again but I'm naffed off with Tom's now and would rather support another company that is more up front and honest about the ingredients contained in their products. I think an email might be in order….
ATTENTION – THIS TOOTHPASTE IS NOT VEGAN, I REPEAT, NOT VEGAN!
Now that I've off loaded all of my irks, complaints and current stresses I shall bid you adieu and hop foot it into my kitchen where I shall be preparing a grossly easy meal of vegan sausage and mash. Next week will be a better week – so I keep telling myself. Now that I've got my organiser I will be completely on top of things (surely?) and who knows, maybe my posts will be more food, less ranting. Stranger things have happened.
Just to further prove what a complete and utter shambles I've been lately, I only realised (after being prompted by my lovely little 'Liebster' award) that we are mid way through VeganMoFo (Month of Food).
I mean really? What the hell is going on with me? I'm actually starting to worry about myself.
After completely missing out on Vegan MoFo last year I was determined to fully take part this time around. So, even though I had the wherewithal to sign up I completely failed to post the banner on any of my October posts – I'm sure there's more to it than that as well, but let's not even go there.
Anyway, much to my surprise, my meagre posting efforts have been kindly recognised by The Vegan Kook – thanks Vegan Kook, muchly appreciated girly!
Liebster Award:
"Liebster" is German and means 'dearest' or 'beloved' but it can also mean 'favorite'. The idea behind this award is to bring attention to bloggers who have less than 200 followers and show your support during Vegan Mofo!
The rules of winning this award are as follows:
1. Show your thanks to those who gave you the award by linking back to them.
2. Reveal 5 of your top picks and let them know by leaving a comment on their blog.
3. Post the award on your blog.
4. Enjoy the love and support of some wonderful people on the big wide web!
Here then are my choices…..
1. Zombie Cats Eating Plants
2. WholeFoodVegan
3. Grim Confetti
4. Awesome Vegan Rad
5. Fresh Air and Fashion
To add to my unexpected week of loveliness, the uh-mazing Hello
Giggles website, which I am an avid follower of, has chosen one my recipes to be featured on their site – yippee! Totally stoked.
I cannot believe my humble soup can be seen alongside some of my all time favourite bloggers such as Mr.Kate and Grasie Mercedes. I'm not embarrassed to say I did a little dance when I saw it pop up on my Facebook news feed. It has so far been shared no less than 77 times! Say wha? And a couple of lovelies left very nice comments. I heart comments, keep 'em coming x
Go check it out and don't forget to share, comment and spread the vegan love!!!
I'm in France. Yay!
At a McDonalds. Boo:(
Before you all go sending me hate mail though let me explain myself. We're currently visiting Hubbie's parents and there's nowhere with wifi for miles around and we were desperate. So here we are sat in a Maccy D's with a Grande Cafe in hand – please God don't tell me there's ground up shellfish or some lark in it because that really is the last thing I need to hear. There isn't ground up shellfish in it though, is there? Just checking.
You can't be too careful in France, they love to slip animal products into everything – and I do mean everything! We'd barely arrived when I'd already bitten into something that contained, wait for it and have a sick bucket at the ready, goddamn pork (or should that be porc?). Sweet Lord, that was not a pleasant moment and I actually almost passed out. No, seriously, I had to sit down and gather myself. It was the first time meat has passed my lips in quite some time and it was worse than I could ever have imagined. Luckily I didn't shallow any of it – small mercies and all that – but just knowing it was inside my meat free mouth for even a few seconds was enough to send me into a tailspin.
Hubbie didn't know what to make of it so remained silent throughout my little meltdown – bless him. Suffice to say, I learnt a hard lesson – never buy supposedly 'vegan' food from a street vendor with limited English. Onwards and upwards, we braved the supermarkets and so far we've been pleasantly surprised and have stocked up on organic (bio) soya milk for our tea, vegan mayo, vegan pates, dairy free sorbet, veggie 'steaks' and so on and so forth.
I will go into way more detail when I get back to Blighty(there'll be bluebirds over……sniff), as I'm sure lots of you want to know how to eat vegan in the most vegan unfriendly place on the planet – of this I am sure.
For now though, be rest assured we are feeding ourselves well and enjoying our stay in what is a truly beautiful Country (eating habits aside). It really feels autumnal here and we've taken wonderful walks in the woodlands, along the coast and in outrageously quaint towns and villages. We've also been chilling like there's no tomorrow – log fires, movies, copious amounts of tea and endless chatter.
I was actually kind of dreading opening up my email (the real world beckoned- ugh!) but when I saw my veggie award I couldn't have been more ecstatic. It's so nice to be recognised in this way, I am truly chuffed to bits. Thanks to all my wonderful readers for making this possible and my Mum and Dad and….too much? Ahem. Seriously though, pleased as punch, so ta very much x
As you know, I've just begun a professional styling course (woot!), which means I'm currently trawling every collection under the sun – fun, fun, fun! I'm also brushing up on my fashion history(I heart Coco – heck, who doesn't!), which is leading me to some fantastic collections of yester year and whilst many of the clothes may not be vegan friendly I am determined to bring these looks up to date and prove that cruelty free fashion is easy peasy lemon squeezy.
And……in many cases you don't have to give up on your favourite designers – good news indeed, as I can't help but drool over the latest Marc Jacobs collection. Just stay away from the fur;)
All this research is overwhelming because there are so many beautifully designed vegan clothes available now and I want it all!!! In fact, I can't see it being very long before more designers adopt a vegan friendly, eco, green (whatever you want to call it) approach when choosing materials for their collections.
We already have Vivienne Westwood leading the way with her collaboration with vegan shoe brand Melissa (f.y.i. I insisted my Sister buy the wicked Alexandre Herchcovitch pair above – you can find them here on ASOS) and there are many fantastic vegan designers regularly emerging, like Dalia MacPhee. Mac Phee's designs are outrageous in my opinion and I just adore her use of colour – the shades are spot on.
I can totally imagine my Sister rockin' one of her designs at a Music Industry event or even a glamorous concert performance. Take a look at this one I have ear marked for such an occasion (I'm always trying to get my Sister out of black!) although there were a dozen others I liked equally as much. Also, did you know Nordstrom now ship to the UK? Uh-oh!
Another vegan brand I am loving is the Chicago based Vaute Couture. Having spent two winters in Chi-town I totally understand the need for a warm jacket that is also stylish, wearable and versatile. However, most jackets on the market are filled with down feathers, so Vaute Couture really are solving a huge problem that many vegans face during those bitter cold winter months. I have my eye on this number……
Like many other girls, I am tad bit obsessed with bags and shoes and just because I'm vegan doesn't mean I have to miss out. This Melie Bianco bag has my name written all over it but I'm going to wait a while and hopefully get it in the inevitable Fashion Conscience sale.
Closer to home I'm hankering after a pair of not yet available (hurry up already!) sea-legs 100% organic cotton leggings from fabulous Cornish brand Seasalt. I want all three colours. Of course!
I'm always on the lookout for unique frames and these incredibly reasonably priced pair from BonLook are pretty much rocking my world right now. Want. So. Bad.
On the accessory front I am totally besotted with everything from hip jewellery store Galibardy but in particular this super cute bike necklace. Have you ever? Too darn pretty.
Now, if you think aztec is out, think again, because Devon based brand Kuccia are still serving up some totally awesome prints that will work right through the autumn. I almost bought this dress the other day and I'm so annoyed I didn't snap it up, as it was on sale in a local surf store for 17quid! Ugh, c'est la vie, eh?
Personally, I'd be pairing this dress with thick black tights because that's just my vibe but it would look great bare legged too. What you can't see clearly from the photo are the fabulous shoulder pads that really make this dress a cut above the rest and when on give it an outrageous shape that even my Hubbie can vouch for.
Geometric prints are gonna be big I think – I can't wait to see the V&A's exhibition Postmodernism: Style and Subversion 1970-1990, which runs from the 24th September. These casual vegan boots from Osborn are so unbelievably sweet, I can imagine myself stomping all over Cornwall in them blissfully blister free. Living in rugged terrain, I'm all about the flats.
This is just a ramshackle collection of my favourite current finds but I will definitely be posting vegan ensemble ideas very very soon. If you can't wait until then, why not mosey on over to brilliant vegan fashion blog The Streets I Know who's tagline is 'Putting the Compassion Back in Fashion'! Right on girl! Right. On.
What vegan fashion finds are you currently coveting?
Here's the second part of my Inside my Vegan Cupboard series where I give you an in depth peek into my cupboard(s).
I hope you find it helpful. Let me know what you think either in the comments below or on my YouTube channel and if you fancy subscribing to my channel (no pressure mind) that would be awesome and make me a very happy vlogger:)