***
Halloween is officially over and the holidays are on their way… something which excites me more than you can know. I love, love, love Christmas and all the special days that surround it, which since our two year stint in the States now includes Thanksgiving too. So over the next two months we will be eeking out every last second of festive fun in the only way we know how – food, drink, film and friends, and not necessarily in that exact order.
***
Being the simple beings that we are, we relish any opportunity to cozy up and make the most out of these incoming winter months, and I will no doubt be making the most of all that squash and pumpkin, some of which will undoubtedly find its way on here. Let's start as we mean to go on then and get cracking with a stonkingly good winter salad recipe – yes, the roasting might take a while but the rest is just a matter of simple assembly.
***
It may sound like a weird combination but I served it with pie and kale – I used it as the potato replacement, and it definitely worked… Hubby heartily approved. The flavours are really reminiscent of stuffing rendering it a perfect Thanksgiving side dish and it's already on my 'planning way ahead' menu. Eek! Cannot wait… holidays are comin', holidays are comin'.
***
ingredients
1 squash/gourd/small pumpkin
1 cup frozen garden peas
1 cup cooked cous cous
1/4 cup toasted flaked almonds
1 sprig rosemary, finely chopped
1 tbsp finely chopped fresh sage
extra virgin olive oil
sea salt and black pepper
***
method
***
Pre-heat the oven to 200 degrees celsius/350 fahrenheit.
***
Halve, de-seed, roughly chop and peel the gourd, then chop into small chunks. roast in the oven with a tablespoon of oil, salt, pepper and chopped herbs for about an hour.
***
Soak 1 cup of cous cous in 1 cup of freshly boiled water, cover and let stand for 10 minutes before fluffing with a fork.
***
Quickly defrost the peas by covering them in a cup of freshly boiled water, leaving for five or so minutes and then drain.
***
Lightly toast the almonds in a heated skillet ensuring, tossing frequently so they don't burn.
***
Remove the squash from the oven and stir through the cous cous, peas and almonds along with a little more oil and seasoning. Serve warm, at room temperature or even cold the next day.
***
Cooking with limited resources can be challenging but also so much fun. Getting back to basics has been one of the best things about this move and I've been loving my one-pot wonders and endless salad variations, so I thought I'd share a quick one with you…
We're feeling a little more settled today, and have both miraculously managed to get some work done – hurrah! Not only that but the deposit on our previous London flat has just come through, which means we can begin the flat search in earnest… so exciting!!!
In lieu of a permanent abode though I thought a little exercise in camper van cooking would keep me busy in between articles for Hunger and strolls to the beach. It's a hard life, I know. Can you tell I'm more chipper today? Things are starting to fall into place so who can be unhappy about that. Onwards.
p.s. the maple syrup seen here was the sweetest gift given to us by our wonderful friends from across the pond who came and stayed with us for a few days last week. It's seriously incredible stuff and the absolute perfect sweet to my sour in this simple but tasty dish. Enjoy!
Sweet 'n' Sour Slaw
1/4 red cabbage finely sliced
1 carrot grated or peeled
1/4 cup pickled beetroot, finely sliced 
handful of pumpkin seeds
coarse sea salt (Cornish Sea Salt is the ultimate – trust me)
ground black pepper
1 tbsp good quality maple syrup
1 tbsp of the pickled beetroot vinegar
1 tbsp extra virgin olive oil
Toss, season, serve…. that simple.
and in case you are wondering about the potato salad. it was simply boiled potatoes, cooled and tossed with sea salt, hummous, chives and a little olive oil…. delish.
Man oh man, it's sure as hell been a while since I did one of these posts, eh? Sometimes I forget I started out as purely a food blogger …truth be told I didn't even know what blogging was back then, I just wanted somewhere to keep a record of my recipes and my Husband suggested I start a blog.
Anyway, here we are, some four or so years later and PeaSoupEats is less about eats and more about me. I can never tell if that was a good move or not but hey, we'll roll with it for the time being.
Let me assure you though, I still cook a lot. A LOT! I am still creating vegan recipes and the kitchen remains my favourite place to hang out. These three recipes were impromptu dishes that I came up with on the spur of the moment after deciding we wanted an early evening picnic in the park, and I must admit they were bang on and totally perfect for outdoor dining. And as ever, they are easy peasy lemon ….you know the rest.
vegan potato salad
6-7 potatoes
2 sticks of celery, finely diced
2 tbsp capers, minced
1 bunch flat leaf parsley, finely chopped
dressing
2 heaped tsp wholegrain or dijon mustard
salt and pepper
1 tbsp cider vinegar
juice 1/2 lemon
1 tsp agave
1/4 cup olive oil
- Boil the potatoes, then drain and allow to cool. Chop into medium size pieces, season and set aside.
- Prepare your celery, capers and parsley. Set aside.
- Put all the dressing ingredients into a jar and shake vigorously until it emulsifies.
- Place everything in a bowl and gently but thoroughly mix together. Place in fridge until needed.
Cous cous with griddle peppers and toasted pinenuts
1 cup cous cous
1/2 red pepper
1/2 green pepper
1/4 cup pinenuts
juice of 1/2 lemon
tamari
hemp oil
tabasco
smoked paprika
- Place the cous cous in a bowl and cover with the same amount of boiling water. Put a plate or lid on top and leave to soak for 10-15 minutes.
- Cook the peppers on a hot griddle skin side up until blackened, then turn over and griddle on the other side.
- Toast the pinenuts in a hot skillet – keep your eye on them, as they can easily burn. Keep shaking them to ensure they are evenly toasted. Transfer to a bowl.
- Fluff the cous cous using a fork, sprinkle over some smoked paprika (to your taste), chop the peppers and add to the bowl, stir through before flavouring with tamari, lemon juice, hemp oil, tabasco and more smoked paprika (again, all to taste, I am pretty generous with everything).
- Give it a final stir through and place in fridge until needed.
Griddled Tenderstem Broccoli with Vegan Pesto Dressing
10 tenderstem broccoli stems
1 tbsp vegan pesto (I like the sundried tomato one from Dress Italian)
1 tbsp lemon juice
1 tbsp olive oil
1 tsp cider vinegar
nooch (nutritional yeast)
- Brush the broccoli with a little oil and griddle for a few minutes until just cooked. Remove from pan and season. Set aside.
- Place the pesto in a small bowl and lightly whisk in the lemon juice, oil and vinegar.
- Cut the broccoli into thirds, return to plate, spoon over the pesto dressing and generously finish with nooch. Place in a tupperware container and refrigerate until needed.
Well whaddya know, I may just have gotten my food bloggin' mojo back – must be our impending move to Cornwall getting me all inspired and stuff. Whoop whoop!!
Weekends for me are all about my kitchen. I tend to spend the entire two days pottering around in there, making this and that – and eating way too much in the process! Whereas I used to make menu plans, now I allow the ingredients to do all the talking, which makes for more interesting dishes and more fun in La Cucina.
Still harboring an obsession for Mexican Cuisine, I rely heavily on tortilla for quick lunches and dinners. Tacos are so versatile, as far as I'm concerned it doesn't matter what you fill them with, they'll still taste amazing. With that said, sauces and dressing are what take most good meals to next level and this sweet n' spicy jalapeno dressing does just that.
I suppose in essence this is what you might call a vinaigrette but we'll stick with dressing for now. The jalapenos are crucial and so is their minced nature – just keep going over them with a sharp knife until you get the desired 'squishy' consistency.
And then…..just mix it through the cous cous AS WELL AS pouring it generously on top before consumption. This would also make a great zingy salad dressing or a yummy dip for bread.
Ingredients
for the dressing
5 pickled jalapeno pieces
1/2 tsp dijon mustard
1 heaped tbsp agave syrup
juice of half lime
1/2 tsp cider vinegar
3 tbsp extra virgin olive oil
pinch of salt and pepper
method
put everything in an empty jar and shake vigorously until it emulsifies.
cous cous ingredients
1/2 cup cous cous
1 tbsp taco seasoning
1/2 cup defrosted frozen peas
1 tbsp chopped coriander
method
place the cous cous and taco seasoning in a bowl. mix to combine and cover with freshly boiled water. put a plate on top and leave to soak for ten minutes.
fluff with a fork and stir through the peas, coriander and half the dressing.
serve alone or in a crunchy taco – top with more dressing before eating!
Miso has many uses. Not the fancy paste stuff – although that has a place in my kitchen too. No, I'm talking about plain old instant miso variety packed full of salty goodness, hmmmm hmmm. Freeze dried food never tasted so good!
I like the Clearspring brand but any will do the job……
….and believe me when I tell you it is the perfect antidote to flavourless (dare I say bland?) couscous.
Yeah, I know I can add spices, herbs and all sorts to give it a lift but when a packet can do all the hard work for you, sometimes you just gotta relent and succumb to the power of convenience.
easy miso couscous
1/2 cup couscous
1 x packet instant miso
1/2 cup organic chickpeas
juice 1/2 lemon
3 x tbsp olive oil
mint and lemon to serve
combine the couscous and miso in a bowl and stir to combine.
pour over 1/2 cup freshly boiled water, lightly mix and cover with a plate. set aside for 10minutes or until the couscous has absorbed all the liquid.
drain and rinse the chickpeas.
fluff the couscous with a fork, add the chickpeas, lemon juice and oil and thoroughly mix.
serve with a sprig of mint and a slice of lemon……or just serve;)
Blogging is hard. It's something that takes dedication, perseverance and a willingness to fail. Not every post will hit the mark and the ones you believe to be your best invariably become your least read. It's not a science and you mostly don't know who you're talking to but always hope that you reach one or two that maybe, possibly, might like to come back. On occasion you may not feel up to writing, photographing, processing but you do it anyway and these posts seem to always turn out the most popular ones, which both baffles and pleases you. Stats drive and deter you. A bad numbers day has the power to ruin your sunny disposition until you realise they're not all that important. You might stress if no-one has felt the urge to leave a comment and worry you've not connected with your readers in the way you'd hoped to. It's complicated. Emotional even. But ultimately you do it because you love it. It's a personal scrapbook holding memories, ideas and…… you. Yep, blogging is hard. But undoubtedly, positively, most definitely worth it.
carrot, apple & courgette salad
1 large carrot, grated
1 courgette, grated
1 apple, grated
juice of 1/2 lime
juice of 1/2 lemon
flavoured or good quality olive oil
salt and pepper
flat leaf parsely and hemp seeds to serve
 -thoroughly combine all ingredients in a large bowl and serve immediately-
If you're not already privy to my Marcus Samuelsson contributions, let me fill you in. Since May of last year Marcus has kindly featured two weekly PeaSoupEats recipes (one savoury, one sweet) on his rather fantastic website, which has many amazing cooking tips, dishes, as well as a boat load of info on food and health. My kind of site.
Gluten and Soy Free Vegan Chocolate Cupcakes with Vanilla Frosting
Thus far I have resolved to not make any resolutions and instead appreciate what the past year has brought and what 2012 has yet to bring. I'm continually amazed at how unpredictable life can be and I can safely say that my Husband and I are now officially go with the flow people – plans are for suckers.
Super Duper Green Kale Smoothie
Okay, so we still make plans but are more prepared for those plans not to work out. You learn such things after moving your entire lives across the Atlantic only to have to return a mere two years later. These things happen. You deal with it and move on.
If you had told me even a few months ago I would be sitting in my new London apartment about to embark on a fashion internship with the Daily Express I would've thought you were mad or at the very least delusional. And yet….here I am. In London. And I start my placement next Monday. Crazy.
Pistachio, Pecan and Goji Berry Bites
Throughout everything that's happened in 2011 – moving (again!), changing career – the two continuous things that have kept me grounded, happy, sane are my Husband (of course!) and my blog. Obviously, Ma, Pa and Sister get a mention too;)
Humdinger Hummus, Carrot, Cucumber, Avocado and Alfalfa Sprout Sandwich
In all seriousness though, this little blog has kept me going on many an occasion when I was feeling useless and gave me a much needed outlet. More significantly, I believe it has enabled me to flex those rusty writing muscles thus giving me the confidence to enter the world of fashion journalism and for that I am ever grateful.
Peanut Butter, Banana and Chocolate Baked Oatmeal
It goes without saying (although I will say it) that I am so incredibly thankful to everyone who reads my blog. Without an audience this blogging lark would be a lot more difficult and I appreciate every view as if it were gold dust. Quite honestly, you are the reason I continue to write here, so to each and every one of you, thank you, thank you, a thousand times, thank you x
I started with noodles and therefore I will end with noodles – spotting a theme anyone? I think I can safely say noodles, chocolate and kale are my top 3 foods. Not a bad top 3 if you ask me!
Miso and Mung Bean Noodle Soup
Yes, you read right, salad in Winter. No, those tomatoes are not in season but the dressing more than made up for their lacking in the flavour department.
Why bother though, you ask, with ingredients that are mediocre, hmmm? Hmmmmm? Because, quite frankly, I'm not willing to wait until next summer to indulge in a little salad eating and that's that.
The 'casserole' aspect to the dish is my way of striking that bizarre balance between Summertime eats in Wintertime temps and it doesn't not work, I must admit.
Aside from the cooked rice, this dish requires mere assembling skills. Hurrah for easy meals in a fraught time of over indulgence and mass consumption of pretty much everything – i.e.Christmas. A minor triumph methinks.
Don't get me wrong, I am the biggest Christmas afficionado that ever walked, wrapped or caroled but amidst the chaos that is my life at the minute, I am ever more frequently reaching for the tin of soup and meals like these are just about all I can muster – that packing ain't gonna do itself, y'know!
I must admit to being beyond excited now about our very imminent move back to London – just over a week, ahhhhhh! The first thing I plan to do when we arrive is to put up the Christmas tree. Priorities and all that.
All I can say is, thanks goodness for Nigella Christmas. It may not be vegan but it sure as heck inspires me in the cooking department at this time of year and like I've said many times before, Nigella's recipes are ripe for veganizing. Tonight we had her Butternut Squash Orzotto (lush!) – just leave out the mascarpone and Bob's your Uncle (or is it Fanny's your Aunt?). Of course, I couldn't help but stir through some peppery rocket (arugula) and a handful of freshly chopped flat leaf parsley.
Oh, and not forgetting her dangerously alcoholic 'Santa's Little Helper' cocktail, which has just about kept me sane these last few weeks. God bless ye Nig:)
salad casserole
1/2 cucumber
2 large tomatoes
1 avocado
2 or 3 cooked beetroot
1/2 cup cooked brown rice
1 tbsp freshly chopped flat leaf parsely
dressing
1 heaped teaspoon dijon mustard
juice 1/2 lemon
1 tbsp red/white/cider vinegar
1 tsp agave or other sweetener
4 tbsp olive oil
1 heaped tbsp finely chopped capers
salt and pepper
1. Peel and slice the cucumber and avocado. Slice the tomato and beetroot.
2. Make the dressing by putting everything into an empty-or almost empty-mustard jar and shake vigorously until it emulsifies. Set aside.
3. In a medium sized casserole (baking) dish place a layer of cucumber followed by beetroot, avocado and then tomato. Lightly salt and then cover with half of the rice. Give the dressing another shake and then pour half over the rice and other ingredients.
4. Place another layer of veg on top in the same fashion, finishing with the rice. Pour over the remainder of the dressing and sprinkle over the flat leaf parsley. Let it sit for 10-15mins before serving. Goes wonderfully with baked tofu and a side of beans.
No, you don't eat these together silly;)
Actually, these are just two recipes I've made in the last week that were particularly memorable, so I thought I'd share them with you.
The pesto coated cannellini beans were made for a quick lunch, which I served alongside a simple bulgar wheat salad consisting of cubed cucumber, peeled broad beans, spring onions, raisins and chopped parsley. I squeezed in some lemon juice, olive oil and seasoned generously with salt and pepper. Oh, and I almost forgot, I added a little cumin, cinnamon and chilli powder to the bulgar wheat before soaking it in freshly boiled water – I find bulgar wheat can be a little bland if spices and herbs aren't added at this stage.
Right then. The pesto. I heart it.
Traditional pesto is, of course, made with the inclusion of parmesan cheese, so when I first became vegan I thought my pesto days were over and that was a difficult pill to swallow. As my knowledge of veganism grew I soon learned that pesto need not be off limits and really and truly the parmesan isn't as crucial as you might be led to believe.
Since then I've made a bucket load of the stuff and used it in all manner of dishes. It's such a great standby sauce that can be whipped up in seconds, so I use it frequently and liberally.
Ditto gravy. Love it, love it, love it.
Coming into these colder months (it's happening already – ugh) I plan on making a lot gravies and wholesome, hearty meals – perfect for warming those cockles on a blustery autumn evening.
This gluten free gravy was simply outrageous and so incredibly easy – I'm talking a few effortless minutes and et voila, you have a lusciously smooth flavourful sauce that is ideal for use in a multitude of meals. I just so happened to have a couple of vegan schnitzel's in the freezer and I thought some mashed tatties and boiled cabbage (I'm a sucker for boiled cabbage – don't judge!) would go nicely – and it did. Oh my goodness, was this tasty. Tas.ty.
Bonus that it happens to be a b12 fest! Nutritional yeast flakes and yeast extract – essential ingredients for your vegan cupboard and lifestyle. Don't be skimping on that b12 intake, ya hear?!
So, if you're stuck for time but still want something a bit special, both of these recipes are the perfect way to bring a little pizzazz to lunch or dinner.
pesto coated cannellini beans
ingredients
2 tablespoons pine nuts (you could also use walnuts)
1/4 cup (packed) fresh basil leaves
1 garlic clove
juice 1/2 lemon
3 tablespoons olive oil
salt and pepper
1 1/2 cups of cooked cannellini beans
Drain and rinse the cannellini beans and set aside.
Place all the pesto ingredients (pine nuts, basil leaves, garlic, lemon juice, olive oil and salt & pepper) into a hand blender and blitz until fully combined – it shouldn't be completely smooth.
Transfer the cannellini beans to a bowl and season with a little salt and pepper – this will make a difference. Then stir through the pesto ensuring the beans are completely coated. Set in fridge to allow the flavours to amalgamate or eat immediately. I had enough for two lunches.
gluten free vegan gravy
1 heaped tsp vegan vegetable granules or 1 stock cube
2 tbsp gluten free flour (gluten free mix or rice flour)
1 tbsp soy sauce (or shoyu/tamari)
1 tbsp vegan Worcester sauce
1 tbsp marmite or other nutritional yeast extract
1 tbsp agave or other vegan sweetener (except maple syrup)
2/3 tbsp nutritional yeast flakes
2 cups water
Place everything into a shallow pan – I actually used a deep frying pan/skillet – and whisk all the ingredients together.
Bring to a gentle boil and keep whisking until there are no lumps. Turn down the heat and allow the sauce to simmer and thicken – this take between five to ten minutes. Stir frequently – whisking if it becomes to thick and clumpy.
The gravy should be ready to serve in 15-20 minutes. If it isn't thickening how you'd hope then add another tablespoon of flour and whisk vigorously to incorporate. Likewise, if it is too thick for your taste, thin it out with a little water.
Can be used in a range of dishes but especially good with mashed potato!
I'm in the middle of a Game of Thrones session here so I'm literally going to just list what I had to eat today – hope you don't mind!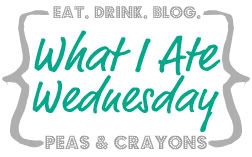 Breakfast
Oatmeal made with water, hemp milk and unsweetened apple sauce. Topped with chopped pecans, flaxseed meal, omega seed mix, amaranth pops, toasted desiccated coconut and fresh blueberries. I poured over a little rice milk to finish and a squidge (technical term!) of vegan sweetener.
It was delicious.
We also had a freshly brewed cup of black tea with a splash of soya milk.
Lunch
Baked potato (you can find my recipe for the perfect baked potato here) topped with lemon and coriander hummus, served with a huge salad consisting of little gem lettuce, peeled and sliced cucumber, grated carrot, spring onion and home made dressing.
So good
Mid Afternoon Snack
Medjool Date
Late Afternoon Snack
Rice cake spread with crunchy peanut butter and no added sugar strawberry jam plus another cup of black tea, this time served with a splash of oat milk.
Dinner
'Sausage' Risotto made with arborio rice, onion, a lot of garlic, peas, asparagus, spinach and sliced vegan sausage. I also herbed it up with oregano, thyme and fresh flat leaf parsley and stirred in a decent amount of nutritional yeast(loves it!). Oh, and lots and lots of cracked black pepper. Lots of it. And then some more.
OMG, this was beyond tasty, we couldn't get enough (om nom nom) – it was sooooo damned delicious. Will absolutely, without a shadow of a doubt, be making this again.
We also treated ourselves to a Blue Moon. We don't normally drink mid week but tonight I just felt like one and it was so nice and refreshing – the sliced orange is crucial!
Those were my eats:) Happy WIAW everybody, I look forward to reading all your posts xxx